Our next class will be today at 8PM.
WhatsApp Fred if this is your first class.
Shinden Fudō Ryū cycle
Bujinkan Fudō-Myōō Dōjō is proud to announce that Dai Shihan Ivan Marovic will be delivering an advanced class every Friday from 12 noon to 1:30 PM in our Dōjō. WhatsApp Fred to register your interest. Ivan started his Bujinkan journey in Serbia in 2000, as a student of Dai Shihan Mirko Ostojic, and founded the Bujinkan Ryōto Dōjō in Belgrade, Serbia; and in Abu Dhabi, UAE.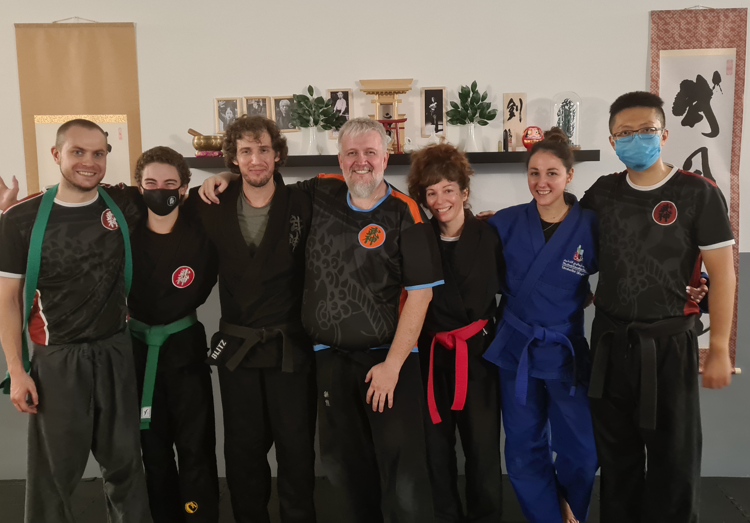 For the next couple of weeks, Dai Shihan Ivan Marovic will explore the feeling of Shinden Fudō Ryū ("The Tradition of the Immovable God School"). This school is a Daken Taijutsu Ryūha founded during the 12th Century by Izumo Kaja Yoshitero, who studied Chinese Kempo boxing. The school has throws, locks, and very straightforward strikes and kicks that use the body as a striking weapon and often appears hard in application. There are no formal postures in this school as the kamae is in your heart (kokoro no gamae and most techniques start from the natural postures (Shizen or Fudoza). Nagato Toshirō is the 27th Sōke in the lineage of Shinden Fudō Ryū and one of the mentors of Dai Shihan Ivan Marovic.
COVID-19 Advisory - Dōjō reopening
After having been closed for almost five months as part of the precautionary measures to ensure public health, I am delighted to announce the reopening of our Dōjō in line with the direction from UAE authorities and health officials. To ensure you can go back to training in a safe environment:
We have gone through a full sterilisation programme with high grade disinfectant
We installed a hand sanitizer station in the changing room
We have established new procedures, including fogging and sanitization of weapons, tools and accessories after each class
We will operate at limited capacity, so liaise with your instructor via our WhatsApp group
You will be temperature checked before entering the Dōjō
You will be expected to wear a face mask at all times
I am looking forward to seeing you all back at the Dōjō.
Bufū Ikkan!
Fred "Ginkuma" Casagrande
New Dōjō jerseys
Manatee has designed a set of new Dōjō jerseys to wear for training when the gi is not required:
You can also order our incredible Hoodie online!
New Sōke of the Bujinkan Ryūha
On the occasion of Hatsumi Sensei's 88th birthday, he officially passed down the title of Sōke of several of the Ryūha: Tsutsui Takumi is the new Sōke of Togakure Ryū; Kan Jun'ichi is the new Sōke of Gyokushin Ryū; Furuta Kōji is the new Sōke of Kumogakure Ryū; Noguchi Yukio is the new Sōke of Koto Ryū; Ishizuka Tetsuji is the new Sōke of Gyokko Ryū; Nagato Toshirō is the new Sōke of Shinden Fudō Ryū.

Hatsumi Masaaki remains Sōke of Kukishin Ryū, Takagi Yōshin Ryū and Gikan Ryū until further notice. He also remains Sōke of Bujinkan and newly appointed Ryūha Sōke remain Dai Shihan in Bujinkan.

On behalf of Bujinkan Fudō-Myōō Dōjō, I would like to extend our congratulations to all newly appointed Ryūha Sōke, and our best birthday wishes to Hatsumi Sensei!
Shinden Fudō Ryū Daken Taijutsu Seminar
My teacher, Dai Shihan Arnaud Cousergue just finished a two-day seminar on Shinden Fudō Ryū organized with our brother dōjōs from Bujinkan UAE.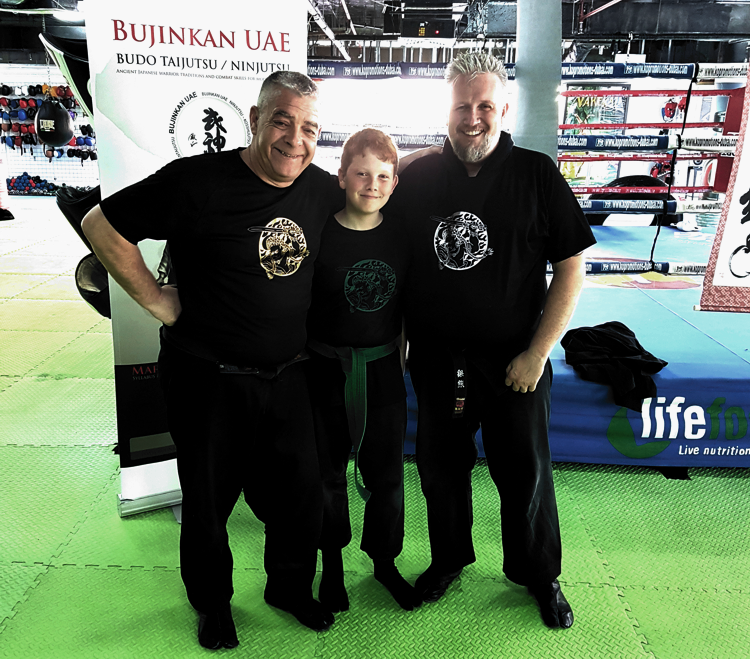 Two intense days, filled with kaname, and a lot of learning opportunity for all the students who attended, and it ended with the first Sakki Test given in the country, an unbelievable experience for all of us, and especially for the new Shidōshi (me).
New Website
We have just launched our new website and updated our class schedule. If you are a member of our dōjō and you do not have an active user account, please fill in this form.
Fudō-Myōō

Before our first class was held in Dubai, our mentor, Dai Shihan Arnaud Cousergue calligraphied a Kanji to be inserted in our Kamidana. This Kanji was Fudō-Myōō, a powerful Japanese warrior deity, and one of the five Wisdom Kings.

His name means "immovable protector" and he burns away all impediments and defilements. He carries a rope in his left hand to bind injustice and control violence, and a sword in his right hand to cut through ignorance and illusion. It was decided that he would become our patron deity, and we became the Bujinkan Fudō-Myōō Dōjō.
Standing on the shoulders of giants
Kimitsuru Sensei

(Hatsumi Mariko), 30 August 2020

Seno Sensei

(Seno Hideo), 7 May 2019

Oguri Sensei

(Oguri Koichi), 17 January 2012

Takamatsu Sensei

(Takamatsu Toshitsugu), 2 April 1972
In memoriam.